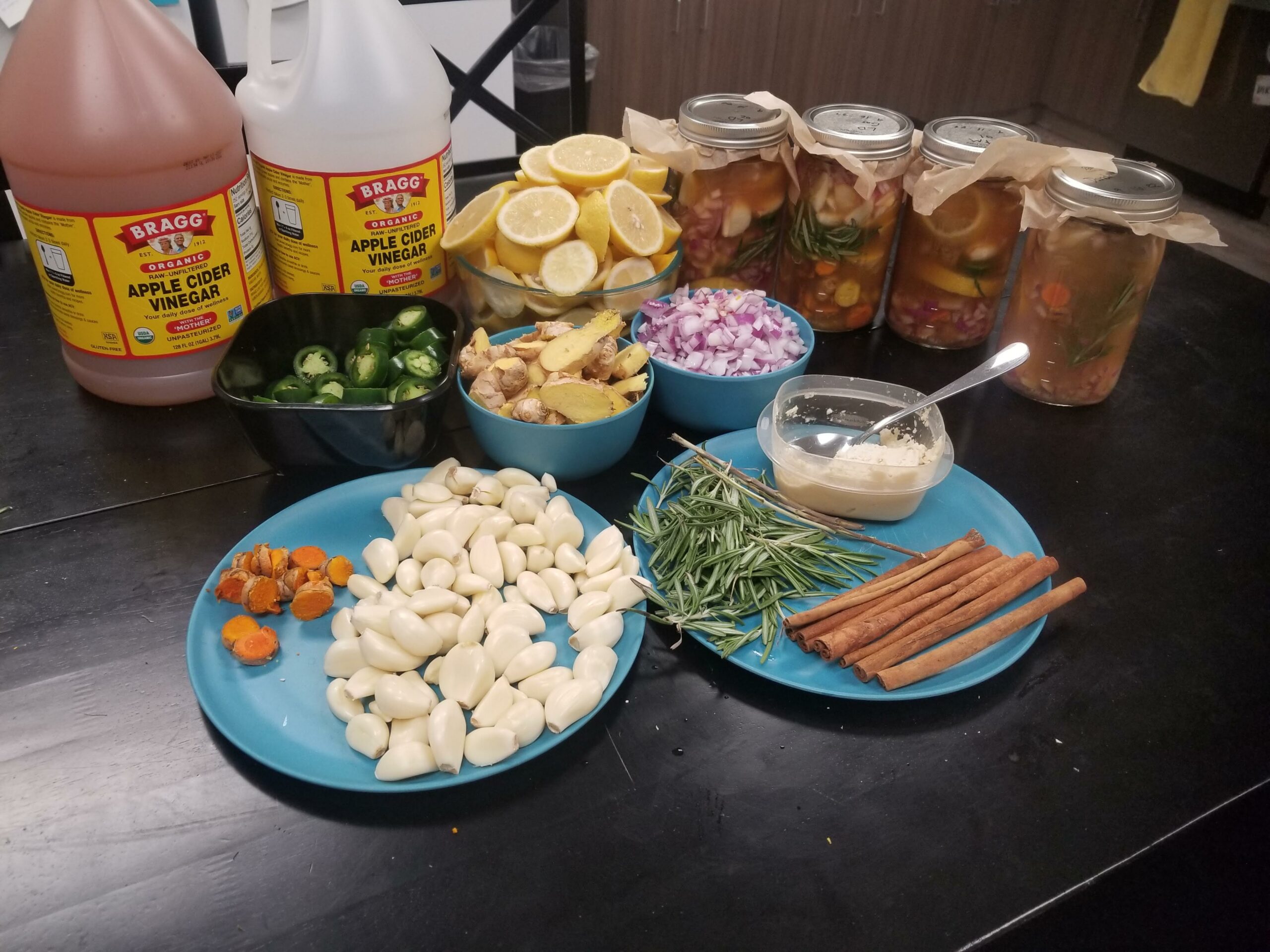 At the first hint of the weather and seasons changing into fall, I feel contemplative about the transition into a slower time of year and how I can best prepare for the coming "hibernation" that winter will bring. One of my favorite traditional practices is to create Fire Cider, originally inspired by Rosemary Gladstar.
With the increased likelihood of illness at this time of year, I find that supporting and nourishing my immune system rises up on my list of priorities. This year, I invited my OIC family to join me in this fun-filled process. Below is a classic recipe from Mountain Rose Herb company. I used this as a general guideline and intuitively adjusted it.
We prepared by chopping all the ingredients first and assembling them in a sort of buffet. Then everyone was invited to create a jar for themselves. The beautiful thing about making this medicine is that you can adjust it to your taste. If you don't have or don't want any of the listed ingredients, feel free to skip them. Different people will prefer different ratios. We filled our jars with our chosen ingredients and then added enough apple cider vinegar (ACV) to cover. If you are using metal lids on your jars, a very important step is to add a piece of parchment paper in between the jar and the lid. This protects the metal from the ACV, which can corrode metal.
Once assembled, store the jar in a cool, dark place, revisiting every day to shake it up and give it some of your positive, loving, grateful energy. After one lunar cycle, strain the solids out, reserving the liquid. Then add an equal amount of honey to create the finished product.
You can take a daily shot (1.5 oz) of Fire Cider or dilute it with warm or cold water to make an herbal tea. Fire Cider can also be added to soups, sauces, marinades, and salad dressings.
Classic Mountain Rose Herbs Fire Cider Recipe
Ingredients
Directions
Prepare your roots, fruits, and herbs and place them in a quart-sized glass jar. If you've never grated fresh horseradish, be prepared for a powerful sinus-opening experience!

Pour the apple cider vinegar in the jar until all of the ingredients are covered and the vinegar reaches the jar's top.

Use a piece of natural parchment paper under the lid to keep the vinegar from touching the metal, or a plastic lid if you have one. Shake well.

Store in a cool, dark place for a month, and remember to shake daily.

After one month, use cheesecloth to strain out the pulp, pouring the vinegar into a clean jar. Be sure to squeeze as much of the liquidy goodness as you can from the pulp while straining.

Add honey and stir until incorporated.

Taste your cider and add more honey until you reach the desired sweetness.
Dandilion Davenport is a registered yoga teacher, sound bath practitioner, reiki practitioner, and integrative nutrition health coach.