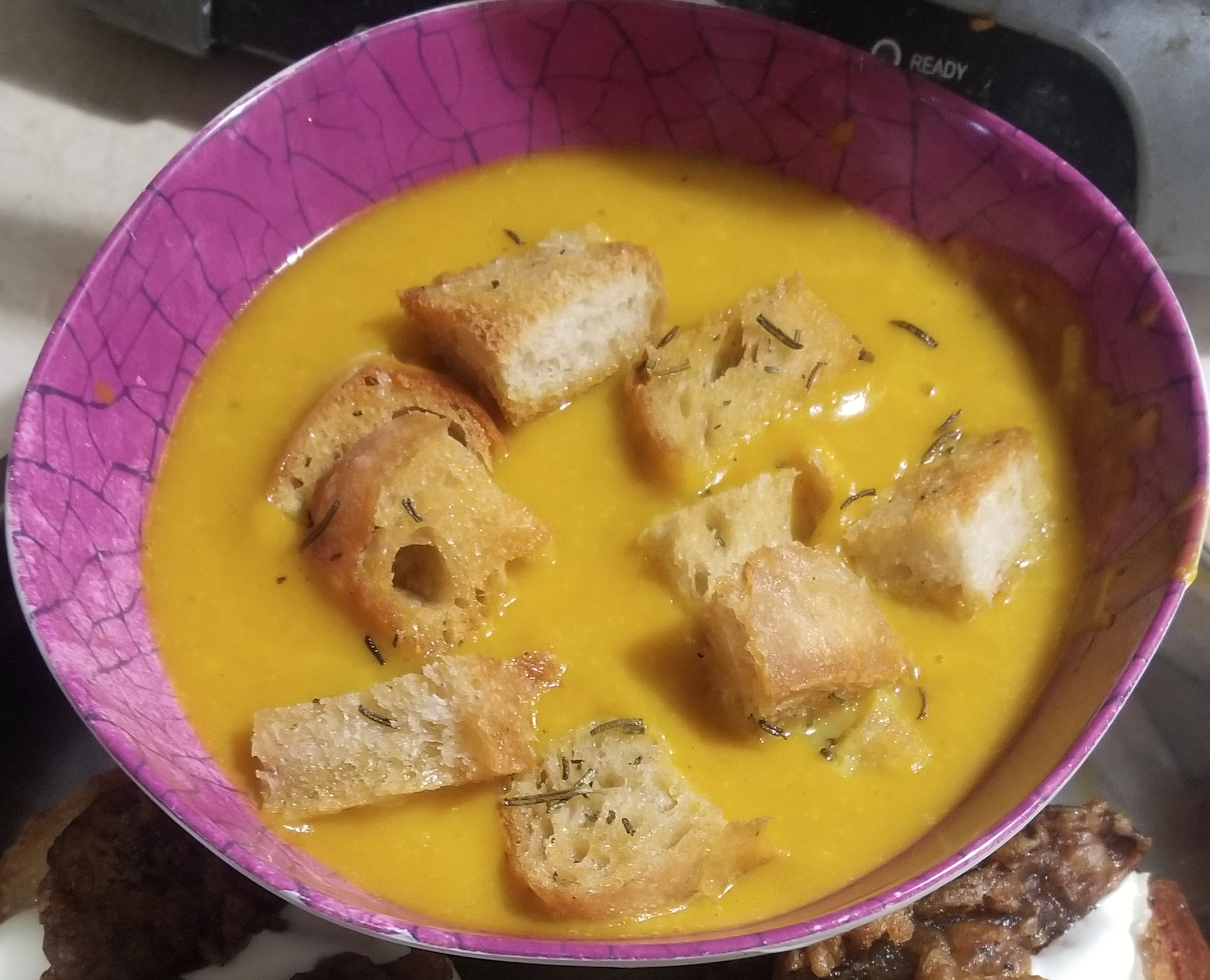 As the winds start to pick up and the weather starts to cool, we find ourselves moving into what is known in Ayurveda as Vata season. The outer world affects our inner world, so to help offset the drying, cooling weather, it is encouraged for us to hydrate ourselves with warming liquids. One of my personal favorite ways to do that is with soup. Here is one delicious way to nourish ourselves this fall.
Roasted Squash Soup
INGREDIENTS
2 tablespoons extra-virgin olive oil

1 large yellow onion, chopped

½ teaspoon sea salt

1 (3 lb.) butternut squash, peeled, seeded, and cubed

3 garlic cloves, chopped

1 tablespoon chopped fresh sage

½ tablespoon minced fresh rosemary

1 teaspoon grated fresh ginger

3 to 4 cups vegetable broth, divided

Freshly ground black pepper
FOR SERVING
Chopped rosemary

Croutons
DIRECTIONS
Heat the oil in a large pot over medium heat. Add the onion, salt, and several grinds of fresh pepper and sauté until soft, 5 to 8 minutes. Add the squash and cook until it begins to soften, stirring occasionally, 8 to 10 minutes.
Add the garlic, sage, rosemary, and ginger. Stir and cook for 30 seconds to 1 minute, until fragrant, then add 3 cups of the broth. Bring to a boil, cover, and reduce heat to a simmer. Cook until the squash is tender, 20 to 30 minutes.
Let cool slightly and pour the soup into a blender, working in batches if necessary, and blend until smooth (or blend with an immersion blender). If your soup is too thick, add up to 1 cup more broth and blend. Season to taste and serve with rosemary, croutons, or your favorite soup topping.
–