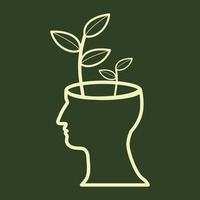 This past weekend brought long awaited signs of spring – tiny buds on the trees, warm breezes and even the beginnings of the dreaded weeds. It was exciting to start thinking about what we will plant this spring and I began making a mental list of preparation for this year's garden. We will need to rake and clean up the debris from the winter; decide what we want to grow this year; and minimize the inevitable weeds that will appear. Though it sometimes feels like a tedious task, when you get into the right mindset it is a healing and renewing process.

Similarly, Spring is an excellent time to look at what your mental garden will look like. Mental health
therapists and health coaches frequently use a cognitive behavioral therapy (CBT) approach to support people in making positive changes to alleviate physical and emotional symptoms. The CBT model identifies that our automatic thoughts or internal dialogue are not only the most powerful influencers of mood and behavior, but also the easiest to change. Think of your thoughts as the seeds we plant. The energy we give them is like water and food helping them to grow.

For example, if you are working on self-care and self-compassion in your life, have you planted those
seeds? Does your internal dialogue support your intention to practice self-care and compassion? If
you're not sure, spend a day really listening to what you say to yourself and see if you are planting the
right seeds.

Once you have identified the seeds you want to plant, it is important that you provide the right
conditions for growth. You won't have much luck planting something that needs full sun in a shaded
area. We have to create the right conditions and make sure we are planting seeds that are realistic and
we can support. If you want to increase your physical activity, what do you need to do to support that
seed? Do you need an exercise buddy? Would a weekly class help support this habit? You can't just
plant the seed and not water it or care for it. That only works for weeds.

The weeds of our mind are the negative habits or thoughts that we tend to ignore. We may see them
popping up over in the corner, but tend to walk right by them, thinking, "yes, yes I need to do something
about that." But, weeds thrive on being ignored and the best thing you can do is to pull them out and
discard them early before they spread or become even more difficult to pull. Think about what causes
you discomfort or gets in the way of the beautiful and nourishing seeds you want to grow. It may be a
habit or a negative thought you identified. Remember, it often takes diligent maintenance to rid
yourself of weeds. We don't feed them or water them, but create conditions in which they do not
continue to grow. If you want to eat less sugar, you aren't going to have sugar-loaded foods lying
around your kitchen. That would be watering the weeds!

Whether you are a gardener or not, Spring is an excellent time to take note of the garden in your mind.
Is it full of weeds? What are the seeds you want to plant and what do you need to do to create the best
conditions for a beautiful garden?

Namaste,
Julie

Pregnancy & Postpartum Support Group 
April dates: 2nd, 16th, 30th
FREE
SIGN UP

Restorative Sleep WS
June 15th 6:30-8:30PM
OIC Lakeside $40
SIGN UP 
What's Happening at OIC?
May Day Special: 10 class yoga package for $100 – ONLY until 5/4!!
Mother's Day Specials
Essential Oil of the Month: Eucalyptus. Pick up for 10% off at either of our locations.
Fertility Support Group is May 21st 6:30pm OIC Lakeside FREE
We will be closed May 28th for Memorial Day – enjoy your holiday & stay safe!
Copyright © 2016 Omaha Integrative Care, All rights reserved.