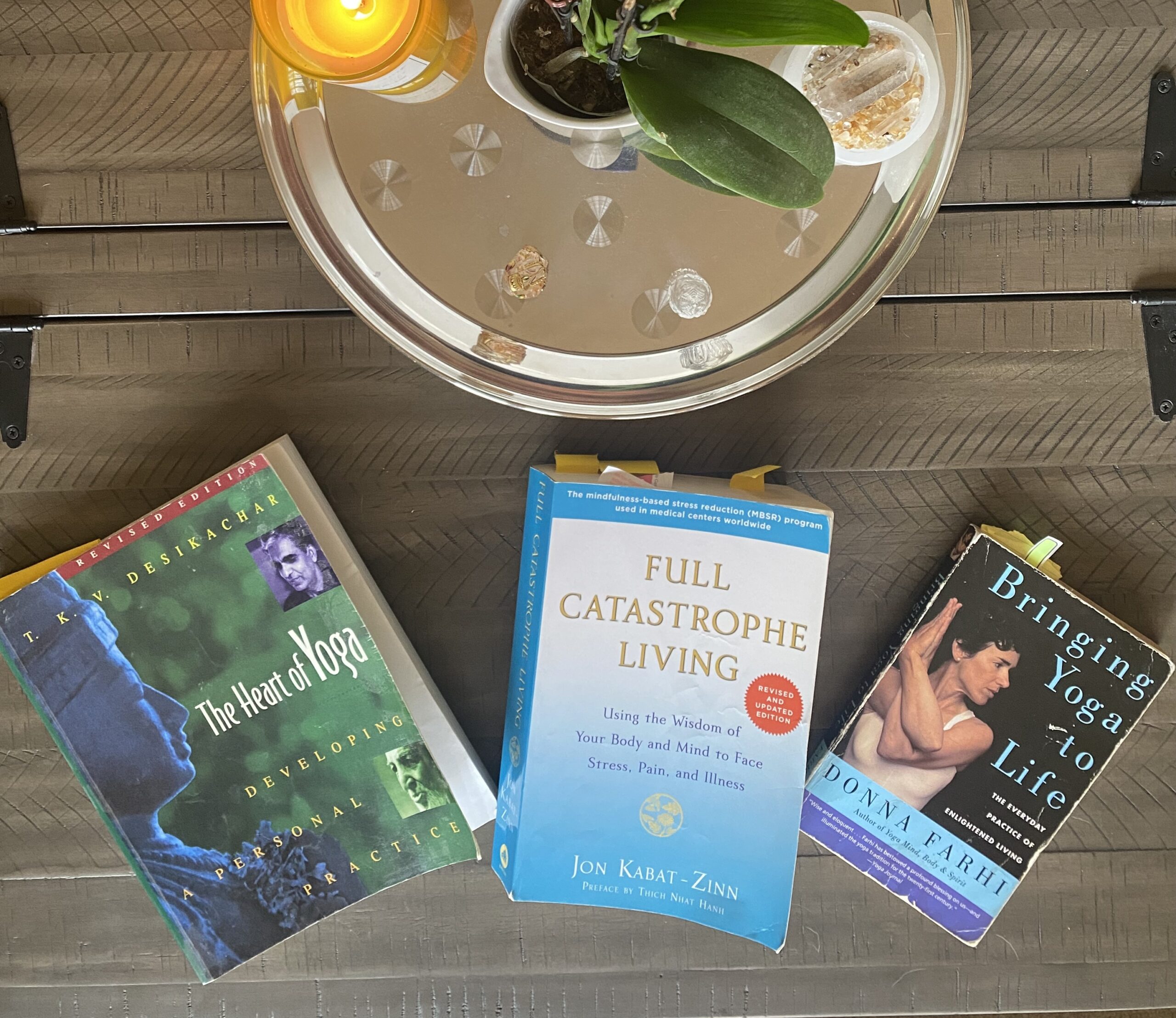 When you're a book lover like I am, and you have HUNDREDS of books on Yoga and Mindfulness, it's a monumental task to recommend three picks! After lots of thought, I've come up with three books that cover a variety of topics within the huge umbrella of Yoga. There's something here for every stage of your journey.
If you want to take yoga beyond the mat, try…
"Bringing Yoga to Life" by Donna Farhi
This book helps us take the practice of Yoga and Mindfulness off the mat and into our everyday living. You won't find a single pose in this book, instead you'll find practical and inspirational insights to help you live your Yoga. My copy is full of highlights, underlined passages, and bookmarked pages. I've read it cover-to-cover at least three times, and have read some dog-eared pages of it many more times. An excellent book for both students and teachers of Yoga, it is accessible to all levels.
If you want to make mindfulness part of your life, try…
"Full Catastrophe Living" by Jon Kabat-Zin
As the title suggests, this book provides us with tools and practices to navigate the trials and tribulations of life. It is considered a "classic" in the Mindfulness community for a reason! This is a roadmap for intentional living and includes stretches, poses, and Mindfulness exercises for students of all levels. There's a focus on the effects of stress and chronic pain as well, as this book is part of a method called Mindfulness Based Stress Reduction (MBSR) used in many hospitals, universities, and healthcare settings across the globe. A wonderful book for both students and teachers of Yoga.
If you want to deepen your understanding of yoga, try…
"The Heart of Yoga" by TKV Desikachar
This book is geared more towards a serious practitioner of Yoga and/or a Yoga Teacher. It covers the Yoga Sutras, Asanas, Pranayama, Philosophy, and more. This was one of my first introductions to the most profound principles and practices of Yoga, when I was at the very start of my Yoga Training adventure 18 years ago. So much wisdom is contained within the well-worn pages of this book. I consider this a "classic" for Yoga Teachers.
Carole Westerman is Director of Yoga Training Programs and Patient Navigator at Omaha Integrative Care. She is ERYT500, RPYT, RCYT, YACEP, and Master Reiki Practitioner.