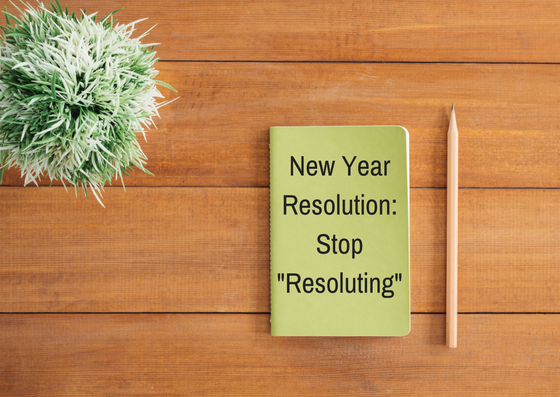 Congratulations! You made it through another year, and now it is officially 2018. To some people, this presents an opportunity to start fresh and forget all the judgments you may have had the 12 months before. Many make resolutions or goals to begin in the New Year, such as: eating healthier, having more patience, or working out more. Unfortunately, as humans, we tend to hit roadblocks that come up along the way.
When you have a goal in mind or a dream of a certain accomplishment, you can't wait and give it a designated starting point. Resolutions are exactly that, resoluting something, usually specific. They tend to come with unrealistic expectations, emotionally, physically and sometimes financially. Being able to sit with an intention to do something is healthier on the psyche, rather that setting an unrealistic goal or resolution.
Having a goal or a resolution is great! As humans, giving ourselves something to work toward, gives us a sense of purpose and empowerment. However, finding the intentions within your resolutions can help set you on a better path for 2018. Before you start with unrealistic goals be open to shifting your expectations, when life happens, give yourself a gentle break. No resolution is worth degrading your self-love. Say to yourself, if you intentions get out of line, "I am doing a great job, sometimes life just happens, and so it is".  Follow this with a couple quiet moments of breaths to refocus and recenter you to your truest intention – love.
Let Omaha Integrative Care start you on the right path for 2018. Start with some self-care with a massage or facial. This month we are offering FREE lip or eyebrow wax with an facial. Find your inner peace at our daily yoga classes. Until the 31st we have a gratitude package for $108 for 15 classes. Allow Peter Falcon, help to get you started on the right physical activity path with some Athletic Counseling. If you are needing more clear guidelines for getting started with your intentions let one of our mental health providers help guide you that way.