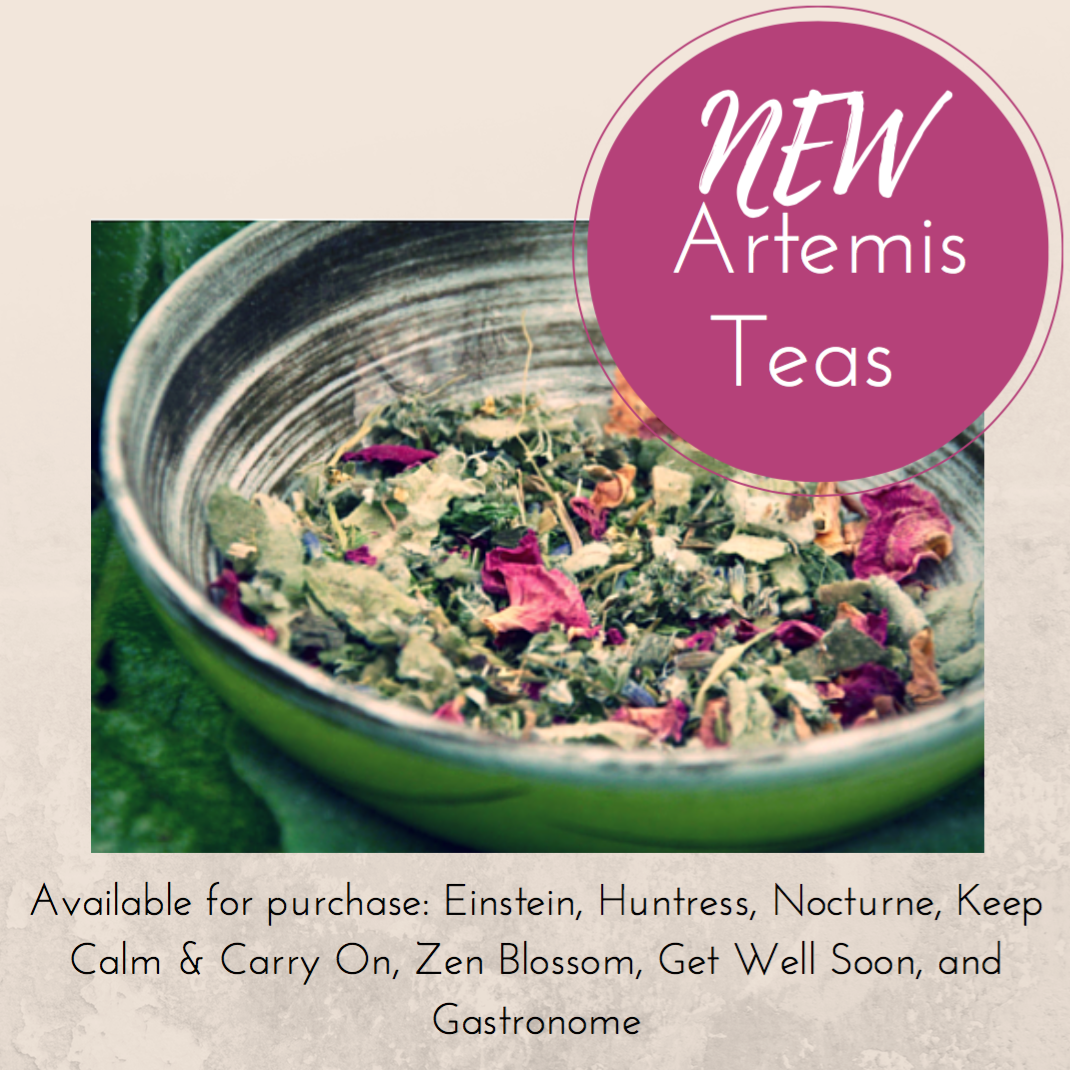 Whether you are a casual tea drinker or interested in getting started, Omaha Integrative Care is excited to offer a new line of teas. These locally made, organic, herbal teas offer many benefits for healing and everyday life.  Artemis Teas owner Andrea hand blends these beautiful herbs into delicious hot (or cold) teas for everyone's enjoyment.
Omaha Integrative Care on Blondo is currently offering Einstein, Huntress, Nocturne, Keep Calm & Carry On, Zen Blossom, Get Well Soon and Gastronome.
Einstein is a light, caffeine-free tea that improves mental clarity, memory and stabilizes energy levels all while alleviating mental tension and increasing blood flow and circulation to the brain.
Huntress is a caffeinated blend that uplifts the mood, strengthens your adrenals and immunity levels and improves stamina, digestion and focus.
Nocturne is a 'sleepy' tea that cultivates stillness and relaxation for a deep rest all while grounding and sensually uplifting.
Keep Calm & Carry On is a black and green tea blend to help upwind after a busy workday or sharpen your mind to carry you throughout the day.
Zen blossom is a floral tea that provides high levels of antioxidants to strengthen immunity and enhance longevity, reduce fatigue and increase endurance all while re-centering in the heart space.
Get Well Soon is a caffeine free blend that can hasten the recovery from colds and flus, stimulate a healthy immune response, manage fevers, clear excess heat from the body and soothe sore throats and coughs.
Gastronome is a fresh soothing tea that can aid with digestion and is a great post-dinner treat.
Try a sip the next time you are in.  We will be serving Einstein and Keep Calm & Carry On at OIC. These teas are loose leaf for freshness, so don't forget to pick up your tea filters at OIC too.