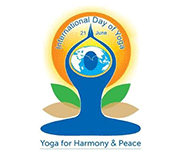 International Day of Yoga was brought about recently by the United Nations General Assembly. This day was picked on the 21st of June, as it is the longest day in the Northern Hemisphere, or known as summer solstice, and this day shares significance in other parts of the world. This day was created to bring about harmony, peace and love for yoga. To bring together the people who did yoga for fun, for pleasure, for healing, for exercise, or for therapy. The idea is that no matter who you are, where you came from, why you practice or what brought you to yoga, the idea is that yoga is the reason we were brought together.
"Yoga embodies unity of mind and body; thought and action; restraint and fulfillment; harmony between man and nature; a holistic approach to health and well-being. It is not always about exercise but to discover the sense of oneness with yourself, the world and the nature. By changing our lifestyle and creating consciousness, it can help in well-being. Let us work towards adopting and International Day of Yoga."  -Narendra Modi
This day goes far beyond just a day of free yoga in your community or recognition of yoga for just ONE day. This day symbolizes what yoga has been so beautifully creating for the last 5000 years. Harmony and peace, finding love and graciousness within the hearts of 'yogis' worldwide. Understanding that WE all have a purpose in this world, and when you find yoga, your search for your purpose is over. YOU are organic and raw and beautifully created to live the life you want to live. THIS is what yoga teaches us, this is the reason for this day.
Join us at Omaha Integrative Care on this day and every day to celebrate yoga. TODAY ONLY (June 21st) we are offering ½ off our 10 class pass and 20 class pass.
Don't miss this opportunity to build peace and harmony in your life, with the help of Omaha Integrative Care.  Use the Promotion code IDY to get your discounted session pass now!
NAMASTE