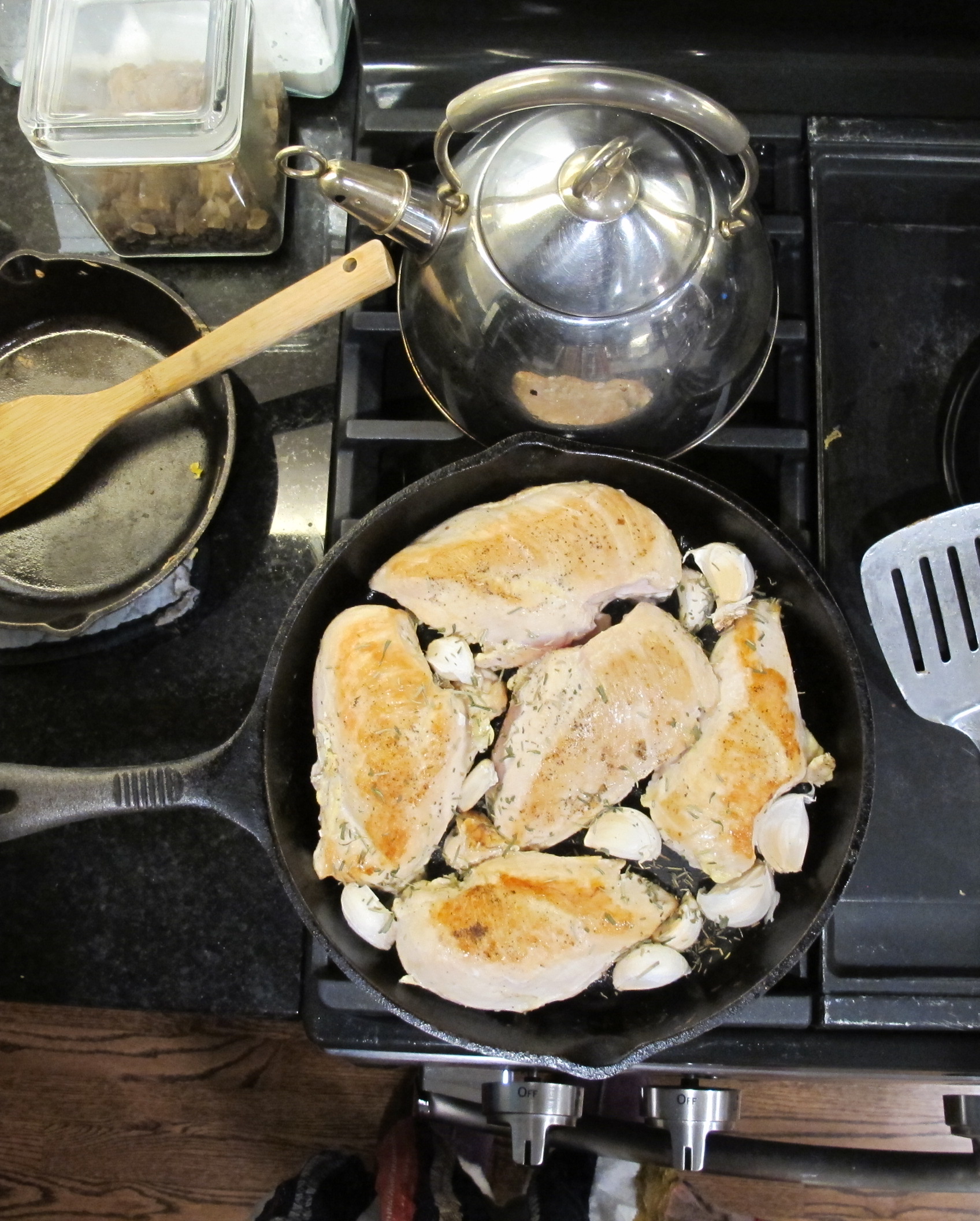 Garlic Roasted Chicken w/ Mashed Potatoes
Serves 4-5
Ingredients
4 skin on, boneless chicken breasts
This recipe is a simple savory take on the traditional chicken and potatoes. Luckily this one just requires a sheet pan and some patience! Preheat the oven to 425 degrees and prepare an ovenproof skillet with olive oil. Sprinkle the chicken lightly with the salt and pepper, and cook skin side down in the pan on medium high for about 5 minutes. Chicken should be lightly browned. Separate the cloves from the head of garlic, but leave the peels on. Flip the chicken and add garlic and rosemary to pan and transfer to oven. Roast for about 25 to 30 minutes and check doneness with a meat thermometer. Transfer chicken out of pan and add white wine vinegar to the garlic and rosemary. Simmer for 5 minutes or until sauce has thickened. Before serving with chicken, take pieces of garlic and rosemary out. Place potatoes in a boiling pot of water to soften. Depending on the size, they should be ready in about 15-30 minutes. When a fork can go into the potato easily, they are done. Mash them in a bowl with butter and cream or milk if you prefer. Once done, portion out the chicken as you desire along with potatoes! Enjoy!
The Grand Grilled Cheese
Your traditional sandwich with a fancy twist
Ingredients
Cheddar cheese (or any other kind of cheese you prefer)
Begin by preparing all the things that will go in your sandwich. With bacon, begin by frying it in a pan until crispy and cooked on medium high heat, about 3-5 minutes. If adding tomatoes cut even slices to eventually put in your sandwich. Prepare the avocado by opening it then taking the seed out and scooping your desired amount out. For the onions, cut long strips and fry in the frying pan until translucent. If doing bacon and onions, fry the onions in the leftover bacon grease. Slice the loaf of bread into even slices. Once all of your various ingredients are prepared, put the desired cheese and other add ons between two slices of sourdough bread. Before putting in frying pan, spread butter or mayo on the top and bottom of your sandwich. So when they come in contact with the pan, the top and bottom will get crispy. Cook until the bread is golden on both sides and the cheese is melted, about a minute each side.