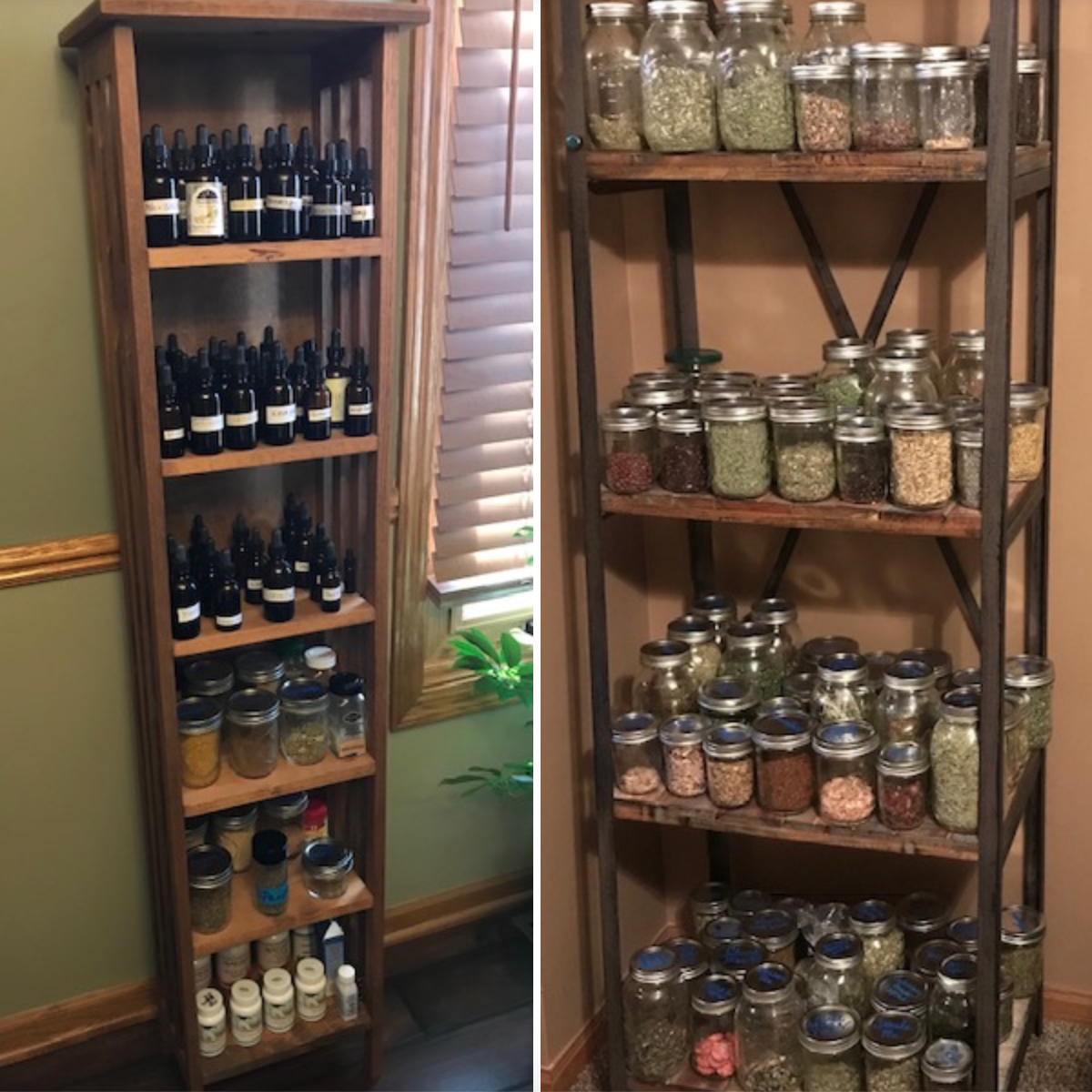 How to Set Up an Herbal Dispensary at Home
Have you been fantasizing about creating the perfect herbal dispensary at home? Perhaps you've purchased a few bottles of herbal medicine and herbal teas, and now want to holistically transform your medicine cabinets even more.
As a certified herbalist who has built three herbal dispensaries from scratch – one at home and two professionally – I have many insights and tips I'd like to share from my experiences.
Step #1: Identify the purpose of your herbal dispensary
Do you want your herbal dispensary at home to consist of first aid remedies, or herbs for your common health concerns, or both? If you have a limited budget, you will want to prioritize whether it is more beneficial to begin stocking the herbs for common health concerns or emergencies. You know yourself and your family best – consider what you use most from the medicine cabinet.
Keep in mind that the herbs in your dispensary will only be for symptomatic remedies. To understand and heal the root cause of a chronic, serious illness, I recommend scheduling an appointment with a certified herbalist for a customized daily herbal protocol. To schedule an initial consultation with me, please contact 402-934-1617 or use the Omaha Integrative Care patient portal.
Step #2: List your recurring health symptoms or issues
Identify the everyday or regular health issues for each person in your home. Make a list. Some examples of health concerns and symptoms you can take care of at home with herbs include headaches, insomnia, nightmares, period cramps, bloating after meals, acid reflux, hangovers, backaches, and stomach aches. For a more specific analysis, consider each season's typical impact on your health and decide which seasons you will need to stock up for.
List the pain factors or minor emergencies at home that typically occur or have happened in the past and could happen again. Examples may include stopping a wound from bleeding, cleaning a wound, healing and closing a wound, extracting a splinter or insect stinger, handling allergic reactions, preventing or healing poison ivy, soothing bug bites, and more.
Reflect on the different environments you and your family may be in throughout the year. Do you go camping often? Do you have a child who has a perpetually scraped knee/elbow/anything? Do you live near snakes or stinging nettles or poisonous spiders? These are some of the potential scenarios you can prepare for when setting up your herbal dispensary.
Step #3: Select the herbs
Research the herbs you need. Find books and articles about herbal remedies online written by professional, certified or registered herbalists. Use at least three sources to verify the facts. If you have questions, ask a certified herbalist – ask me! I plan to cover the subject of selecting herbs for your herbal dispensary in detail in a future blog post and/or class, but for the meantime you may reach me at michaela.brown@omahaic.com with questions.
Whether you're beginning to learn about herbs or you've used herbal medicine for years, it can be tempting to buy herbs that intrigue you but may only be needed once a year, if at all. Believe me, especially as a major herb nerd myself, it can be fun to purchase a rare herb you learned about and may someday use for a very particular and unlikely occasion. I recommend resisting the temptation, especially if you have a budget for starting your herbal dispensary. Lay the foundation first. After you have the basics – both basic herbal medicine stocked at home and basic herbal knowledge and experience – then you can experiment with the rare, lesser known herbs.
Step #4: Find your supplier
If you cannot grow herbs or do not know how to make herbal medicine, or if you prefer to focus your time and energy on other aspects of this project, find a company you trust and respect to supply herbs for you. Determine your standards for high quality herbal medicine suppliers. Do the supplier's herbs need to be organic, fairly traded, non-NGO, kosher, and/or sustainably sourced? Choose a company that aligns with your quality preferences. Review their website or contact them directly to learn about their quality control standards.
Next, decide whether supporting local businesses matters to you. If you prefer locally sourced herbs whenever possible, find out who sells herbal products locally and in what form they're available. Here are some of my own vetted and approved resources for local herbs: I recommend Prairie Star Botanicals in Blair for liquid herbal extracts and various herbal topicals. For dry herbs, I recommend the medicinal herb farms Curious Roots in Louisville (curiousroots@hotmail.com) and Spiritus Vitae Botanicals outside of Lincoln. Dry herbs can be used as teas, compresses, poultices, and for making your own herbal products.
For those of you with more advanced knowledge of herbs, I suggest researching what sort of herbs the suppliers sell. This information can help if you have preferences for using herbs from certain traditions of herbalism. Ask the company for a catalogue or visit their shop or farm. Their herbs will likely be Western herbs or Native American herbs if grown locally, unless they're importing from elsewhere to provide herbs from the TCM and Ayurveda traditions.
Step #5: Choose the amount and place the order
Consider how much to order of each herb. How many people in your home will need to use the herbal medicine? How often do you anticipate using it?
Dosing is a complex aspect of herbalism. The dose amount and frequency depend on the health issue, the situation, and each individual. Many herbalists have differing opinions on dosing techniques. Most, however, do agree on the following: for a spot treatment for quick relief, one would take a relatively higher dose as needed, and for a first aid emergency, one would take a relatively smaller dose frequently and regularly (for example, every half hour) until symptoms discontinue or medical assistance is attained.
Without getting into the nuances of herbal dosing, I encourage you to use your best judgment for choosing the quantity when ordering. If you're not sure, ask the supplier how much to order for your anticipated use. They may have a measurement reference that could help with your decision. To keep it simple, if you're trying out new herbs, start by ordering a smaller amount. Over time you'll learn which herbs you can't ever seem to keep stocked. Those are the herbs to order in bigger amounts.
When you're ready, place the order. Relish in the subsequent rush of pride from taking your health and your family's health into your own hands, naturally. Enjoy the feelings of comfort and excitement that your new plant allies are soon coming to your aid.
Step #6: Prepare space and containers for your herbs
Consider the most practical and most convenient location for your herbal dispensary. At my home, my main herbal dispensaries are in my kitchen and living room. That said, I also have herbs on my dresser, in my bathroom, nightstand, office, handbags, and car. Though what do you expect from an herbalist?
Make sure the herbal products are kept in a dry environment at room temperature, away from direct sunlight and moisture. These are the most important details to consider when choosing where your herbs will be stored.
If you are stocking dry bulk herbs, I recommend using airtight glass containers. I prefer using glass over plastic for environmental and purity reasons. Furthermore, keeping dry herbs in plastic or paper bags increases the chance of exposure to moisture and air, which compromise their quality and safety. Glass Mason jars work well.
Depending on the herbal medicine you keep stocked, you may need to purchase additional supplies to dispense the medicine. Basic herbal dispensary supplies may include the following: tincture bottles with droppers or flat lids, cloth bags or cheesecloth for herbal compresses and tea, tea strainer, cotton, flannel, linen, or surgical gauze for herbal poultices, and more. It also helps to have access to a stovetop and water, liquid glass measuring cup and tablespoon, and clean counter space and/or a cutting board. There are many, many other supplies to add as you become more practiced as a "home herbalist." The above-mentioned supplies are what you may want to start out with.
Step #7: Create an organization system
Decide how to label each container. Some options include a permanent marker on tape, a water-based paint marker on a tin lid, typing and printing from a label printer, or writing on a label sticker. I strongly recommend including the plant part on the label. Mullein leaf, for example, has different uses than mullein root, and this is true for numerous other plants. It's important not only for you to know the plant part (beyond trying to memorize it), but also for everyone else who may use the dispensary. I suggest adding the manufacture date and batch number on the label as well, if it's not already there.
You will want to know where your herbs are at any given moment, which is why it is imperative to develop an organization system that makes sense to you. I recommend first organizing by product. You could use one storage unit or shelf for each product type, such as liquid herbal extracts for internal use, external liniments and sprays, teas, capsules, and vitamins. Next, categorize the herbs by alphabet, function (nervines, adaptogens, etc.), formulas vs. single herbs, or some other way. In my home dispensary for liquid herbal extracts and capsules, I like having one shelf just for pain relief herbs and herbs to use if I'm starting to feel sick. I strongly encourage you to dedicate a section of your dispensary for emergency herbal products and label that section "Emergency Herbs." Even if you live alone, it is wise to label the emergency herbs section of your dispensary.
If you think you'll have trouble remembering what each herb is for, write or type it on paper. Keep the list attached to or easily findable in the dispensary. The list will be helpful to others in your family who use the herbs as well by educating them on different uses of herbal medicine, thereby empowering them to take control of their own health when you're not around. It could also make a big difference in emergency situations, helping people to act quickly and with precision.
To be extra organized, create an inventory system and update it regularly. Type a list of all your herbs in the same order they are stored. In the next column, record the remaining amount of each herb. Based on the frequency of use, determine which herbs need to be restocked immediately when at "low" and which ones you can hold off on reordering for a while longer. Or, if budgeting is not a concern, you may want to reorder all herbs when they're "low" to save on shipping fees.
Pro tips for maintaining an herbal dispensary inventory:
In the next column, record the (current stock's) supplier of each herb. When you have an overwhelming number of herbs and can't keep track of which company supplied each herbal product, this information will come in handy – especially if the quality is impressive, poor, or problematic.
If you have multiple storage units in your home for herbs, consider adding a column for the location of each herb stored in your home.
Step 8: Maintain quality 
Preventative quality management is key. Get in the habit of checking for freshness every time you use an herb. Preserve the freshness as long as possible by closing the containers tightly after each use.
It's a good practice to do a full review of your whole dispensary at least once a year. Check the smell and color of each dry herb. Excessively faded color or distinctively off or musty smells generally indicate the herbs can be removed from the dispensary for composting. As for tinctures, if the dropper has a gooey substance on it, that's usually from the viscosity of the herb. Some herbs, such as resins, tend to create a thick, gooey substance on the dropper. It's not an indicator that it's gone off. Simply replace the dropper with a new one when that happens.
For details on how long your herbs are most potent, check out my blog post, "Herbal Medicine at OIC – The Scoop."
Let's recap how to set up an herbal dispensary at home:
1) Identify the overall objective(s) for the herbs to stock at home.
2) Know the common health symptoms in your home and plan for emergencies.
3) Research and select the herbs to stock. Ask me for guidance if needed.
4) Determine your product quality standards and research herbal suppliers.
5) Plan how much of each herb you will need.
6) Set up the storage units and containers for the herbal medicine.
7) Create and maintain an organization system.
8) Check regularly for freshness to maintain an effective and safe herbal dispensary.
Have fun learning more about herbal medicine as you integrate it deeper in your life each day from the comfort of your home!
If you have questions or would like to schedule an herbal consult please contact Omaha Integrative Care by calling or texting 402-934-1617.
Meet The Herbalist

Michaela is a professionally trained Herbalist, Registered Yoga Teacher, Reiki Master Practitioner, and Birth Doula. As an Herbalist, Michaela helps people restore harmony in their body, mind, and spirit to overcome imbalances and illnesses and sustain vibrant health and wellbeing through customized herbal therapy plans and herbal medicine. Michaela empowers her clients with information about holistic healing, offers support during transformation and growth, inspires a reconnection to nature through the natural healing intelligence of plants, and shares the magic of mindfully formulated plant medicine.
Read her full bio HERE! 
Copyright © 2018 Omaha Integrative Care, All rights reserved.